Title: Big Mushy Happy Lump
Series: Sarah's Scribbles
Author: Sarah Andersen
Publishing date: 7th March 2017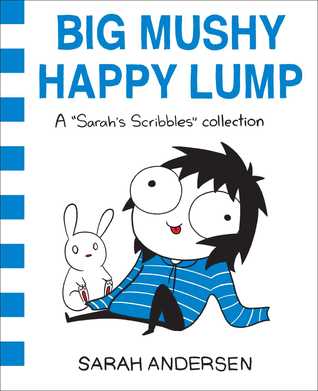 Swimsuit season is coming up! Better get beach-body ready! Work on those abs! Lift those butts!

...Um, or how about never mind to all that and just be a lump. Big Mushy Happy Lump!

Sarah Andersen's hugely popular, world-famous Sarah's Scribbles comics are for those of us who boast bookstore-ready bodies and Netflix-ready hair, who are always down for all-night reading-in-bed parties and extremely exclusive after-hour one-person music festivals.

In addition to the most recent Sarah's Scribbles fan favorites and dozens of all-new comics, this volume contains illustrated personal essays on Sarah's real-life experiences with anxiety, career, relationships and other adulthood challenges that will remind readers of Allie Brosh's Hyperbole and a Half and Jenny Lawson's Let's Pretend This Never Happened. The same uniquely frank, real, yet humorous and uplifting tone that makes Sarah's Scribbles so relatable blooms beautifully in this new longer form.
I love Sarah Anderson and her art! This lady really gets it. When i saw this on Netgaley I just had to have it and read it as soon as I could :D
This book has comics I knew, and obviously loved, and new ones. All of them drown in her well-know style with humor and universally acknowledged truth :P
If you like thoughtful and fun comics, don't miss this book!