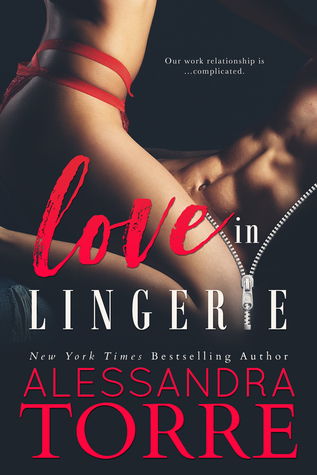 Title: Love in Lingerie
Author:
Alessandra Torre
Published: 16 January 2017
I hired her to fix my company, to bring Marks Lingerie back to life. I didn't expect her to become my friend. I didn't expect to fall in love with her.
The first rule of business is to never touch your employees. I think there is another rule about not falling for your best friend—a rule against imagining the curves of her body, or the way her breathing would change if I pulled down her panties and unzipped my pants.
Now, I can't wait any longer. I'm tossing out the rules.
Damn the company.
Damn our friendship.
Damn my fears.
Main characters:
Tray Marks
Kate Martin
Why I added the book:
Alessandra Torre is an auto-buy author.
What I Liked:
In this novel Alessandra Torre expands upon the "love in the office" trope. She does is so good! Tray is the CEO of a lingerie company that is in trouble and he hires Kate to revitalize it. From the first meeting, sparks fly. Tray can make anything sound sexual and their banter is lots of fun. Kate is a bit straitlaced, but in a good way. At the start of the book she's engaged, but after a few months on the job, things just don't work out. There's no cheating though, which I was very grateful for(I hate cheating, in and out of books).
Kate and Tray are best friends, their relationship is full of sexual innuendo.
SPOILER
Even after she gets another boyfriend and he gets a girlfriend, sparks still fly. It takes her breaking it off with the other boyfriend and he dumping the girlfriend, and some really serious talks, to finally move it along.
/SPOILER
Another thing that I appreciated in the book: there was no insta-love. The book takes place over at least 3 years(yes, I lost count, sue me!) and we see their relationship develop.
What I didn't like:
I would have liked a more in-depth view in their relationship. At some times it felt that the author was showing us deferent scenes from their lives, but not really connected, It seems I'm more of a story-centered reader, rather than a character-based one.
Favorite scene:
Tray left in a bathrobe on a balcony: priceless.
Favorite quote:
I loved all the lingerie comparisons:
"If this night were lingerie, it'd be a leopard print satin set. Trashy and destined for ridicule."
"If our relationship was lingerie, it'd be fur-lined handcuffs, latched around you, the key lost, escape impossible."
Would I recommend the book:
100%
Final rating:
4.5*