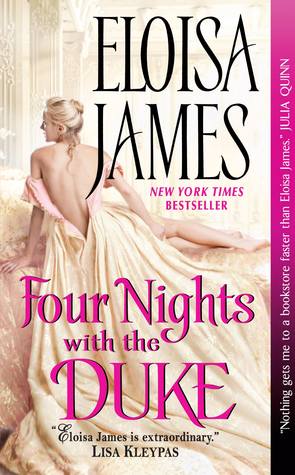 As a young girl, Emilia Gwendolyn Carrington told the annoying future Duke of Pindar that she would marry any man in the world before him—so years later she is horrified to realize that she has nowhere else to turn.
Evander Septimus Brody has his own reasons for agreeing to Mia's audacious proposal, but there's one thing he won't give his inconvenient wife: himself.

Instead, he offers Mia a devil's bargain...he will spend four nights a year with her. Four nights, and nothing more. And those only when she begs for them.

Which Mia will never do.

Now Vander faces the most crucial challenge of his life: he must seduce his own wife in order to win her heart—and no matter what it takes, this is the one battle he can't afford to lose.
Find the book on Goodreads | Amazon | The Book Depository
I loved it! I took breaks only to pee, otherwise I didn't even need food... it was that good!
I haven't read many historicals with the heroine working as a novelist(that I liked and finished), but EJ doesn't disappoint. Mia was great: she's loving, smart, has a great sense of humor and she's an amazing writer. Vander is a bit scared by his past(his father had bipolar disorder, or that's what it reads like, and his mum cheated on him with Mia's dad... both characters were shaped by this), he's kind of antisocial, kind, gets well with kids; but he also has, let's call them bursts of assholish behaviour. He feels threatened by what he feels for Mia and tries to demean her with barbs whenever he's vulnerable. I like that in the end Mia makes him work for it and makes him voice his feelings, not accepting less then she deserves.
EJ wrote another of her amazing books and I can't wait for more!
Rating: