This meme is about sharing your favorite quotes and the books they come from!
It is Hosted by Anna at
Herding Cats and Burning Soup
.
I'm re-reading this series with a friend and some quotes are just too good to resist. Read about Kate and Curran and their sparring matches :D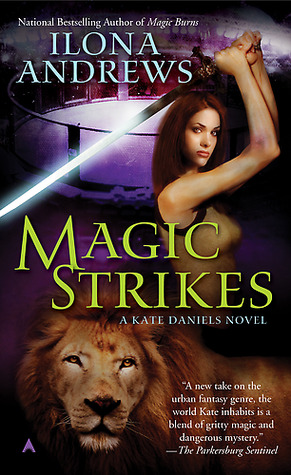 Clicking on the cover sends you to Goodreads
"You said something?" I arched an eyebrow at him. Nonchalance—best camouflage for drooling. Both the werebison and the swordsman looked ready to charge: the muscles of their legs tense, leaning forward slightly on their toes. They seemed to be terribly sure that we would stay in one place and wait for them.




Curran was looking at their legs, too. They must be expecting a distraction from the lamia. She sat cocooned in magic, holding on with both hands as it strained on its leash.




"I said, I know why you're afraid to fight with me."




"And why is that?" If he flexed again, I'd have to implement emergency measures. Maybe I could kick some sand at him or something. Hard to look hot brushing sand out of your eyes.




"You want me."




Oh boy.




"You can't resist my subtle charm, so you're afraid you're going to make a spectacle out of yourself."




"You know what? Don't talk to me."
Because I'm week, I can't choose only one quote... here's another short one :D
My eyes snapped open. He stood inches away, anchored on the tub floor, his arms leaning on the tub wall on each side of me. His eyes were molten gold, but it wasn't the hard, lethal glow of an alpha stare. This gold was warm and enticing, touched with a hint of longing.

"Don't make me break this bottle over your head," I whispered.

"You won't." He grinned. "You don't want to see me hurt."



To learn more about
Ilona Andrews and her work go to her
website
,
facebook
and
twitter
.